Mindfulness Sessions - Commencing 10th May 2021
Posted on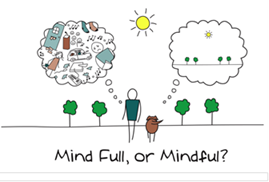 Following on from the Mindfulness article in the Spring 2021 Wee Blether, Ruth Webster (one of our Volunteer Co-ordinators) has been setting up some Mindfulness Sessions. These will be run in partnership with Highland Mindfulness and our first four-week course will be beginning on Monday 10th May at 2 pm via Zoom.
The sessions will be one hour long and will introduce you to the various types of Mindfulness taught by Rona who is hugely experienced and has been doing this for several years now.
The course will run for 4 weeks and then following this we will run another course in the evening on a Wednesday at 7 pm from 9th June so if you can't make the first set of sessions, please don't worry, you will be able to take part in the second set.
After we have run the first two sets of sessions we intend to run them again so we would be delighted to have any feedback from you about them.
If you would like to take part in the sessions starting 10th May please let Ruth know by contacting her by either email or telephone as follows:
email: ruthwebster@befriendershighland.org.uk
Telephone: 01463 712791 (this will usually go to an answerphone where you can leave a message)
We have a maximum of 10 spaces available in each group so do act quickly.