30k Your Way!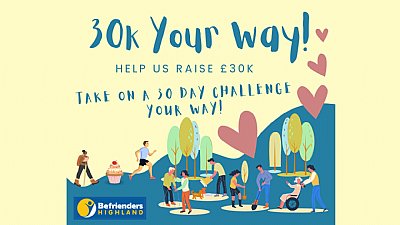 We'll let you into a secret, we know we don't look it but soon we are turning 30 years old!
To celebrate this we have launched out "30 for 30" campaign, as we hope to raise £30,000 for our 30th anniversary and we would love for you to join in the fun to help support us in our celebrations.
We have a lot of exciting events and announcements planned over the next few months, but today let us tell you about the
"£30k your way" project
Help us work towards our target of £30k, and you can do it completely in your own way! HOW can we do that, you might ask ....here's a few ideas....
You could bake 30 cakes and sell them and donate the proceeds!
Are you crafty? You could make 30 items and sell or raffle and donate the proceeds!
Are you outdoorsy? You could climb 30 munros and ask people to sponsor you?
Do you have a fitness goal that a 30 day challenge would help with? Walk a mile a day, cycle everywhere for a month, the ideas are endless, get creative!
BONUS POINTS if your idea means you involve a friend or brings people together, we are after all, all about combatting loneliness and isolation.
Join us over on our "£30k your way" group https://www.facebook.com/groups/8387970697910429
We would love to hear from anyone who may want to get involved!
Stay tuned for updates on our £30k your way project